Skip Navigation
Website Accessibility
1661 Botelho Drive, Ste 180
Walnut Creek, CA 94596
Open Tuesday - Saturday 9-5
Questions? 925-937-7575
BERNINA 570 QE
The Bernina 570 Quilter's Edition provides an exclusive level of stitch control. Whether altering the stitch length (up to 6 mm), width (up to 9 mm) or needle position (up to 11) or even creating custom combinations, you'll appreciate the convenience of a machine that remembers the stitch details for you. The B 570 QE is a genuine all-rounder that can sew, quilt and embroider. The touchscreen makes changing from sewing to embroidery mode a breeze. There are 250 embroidery designs to choose from, and you can upload your own embroidery designs via a USB connection. The designs can be edited right on the touchscreen with the Rotate, Mirror, Rescale, and Color Change functions. Included with the machine, the BERNINA Stitch Regulator (BSR) can sew both straight- and zigzag stitches. It is superbly suited to ambitious professional-level sewing projects such as free-motion quilting on all fabrics.
Call us at 925-937-7575
We are sewing machine professionals, not just another internet retailer. We do our best work when we can ask questions about the type of sewist you are, listen to your answers, and match you to a machine that fits your needs and budget. Please call 1-925-937-7575 to speak to a trained professional and learn about current promotions, interest-free financing, and our low price promise on this model and all the machines we sell.


570 Quilters Edition with embroidery module
FOR DECADES, BERNINA HAS BEEN PASSIONATELY COMMITTED TO THE DEVELOPMENT OF SEWING AND EMBROIDERY MACHINES. SWISS PRECISION IS AT THE HEART OF OUR PRODUCTS. HIGH-QUALITY MATERIALS GUARANTEE A LONG PRODUCT LIFE AND HIGH PERFORMANCE
The BERNINA 570 QEE offers a wealth of features that make sewing, quilting, and embroidery easier. Handle big quilts with ease and enjoy precise and perfect stitches.
---
FOR QUILT DESIGNER SUZY WILLIAMS AKA SUZY QUILTS THE BERNINA 570 QE E MAKES HER FEEL LIKE PRO.
Suzy Williams knows quilting. That's why she chooses the B 570 Quilter's Edition with embroidery module(QE E), made especially for quilters. Its quality Swiss engineering means great tension and perfect stitches every time. If quilts tell stories, then Suzy´s tell of how modern design met perfect stitches and lived happily ever after! And the matchmaker in this tale is none other than the B 570 QE E. It´s made especially for quilters who want perfect stitches.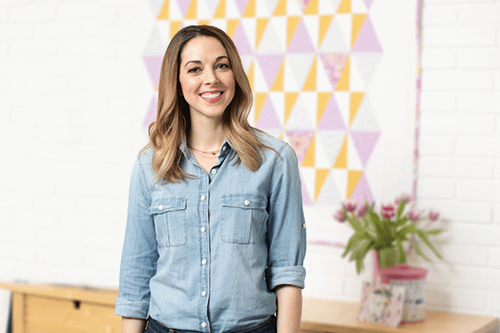 The B570 quilter's edition is made especially for quilters because not only does it have great quilting stitches but it also has all of the feet that quilter's need when piecing and quilting a quilt. Bernina's the perfect companion to my minimal, modern quilt design.

Suzy Williams

Quilt Designer
---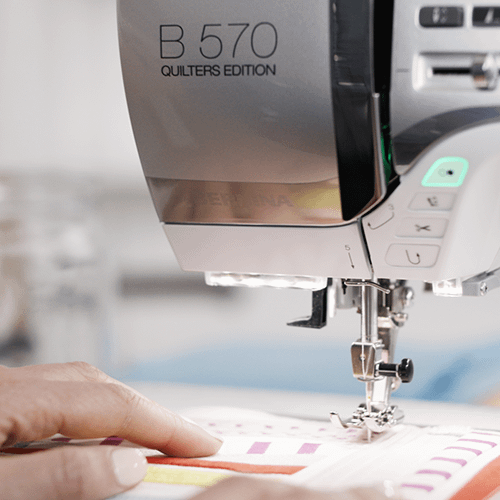 Keep your hands on the fabric
Thanks to the hover function the foot raises, but the needle stays in the fabric, making it easy to maneuver and turn as you appliqué and quilt.
Adjust your quilt safely

Tiny adjustments can be done quickly

Rotate, turn & do appliqués easily
---
Achieve perfect stitch results
The BERNINA Stitch Regulator guarantees precise stitch quality and results at any speed during free-motion quilting.
Achieve perfect, equal-length stitches

Perfect results no matter which speed

Perfection comes standard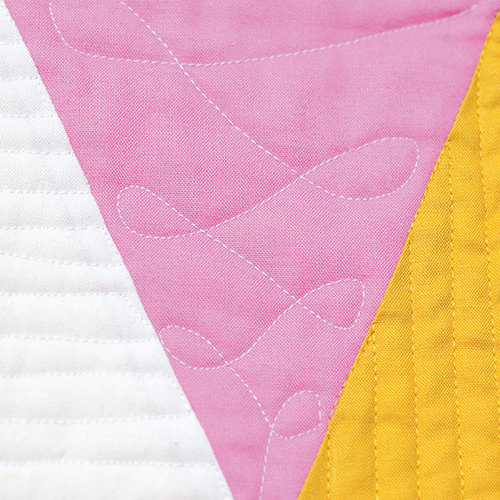 ---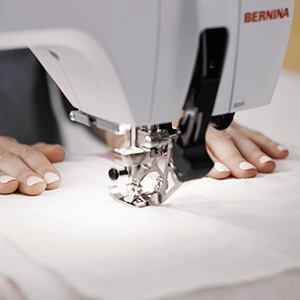 QUILT ALL MATERIALS WITH EASE
The innovative BERNINA Dual Feed feeds the fabric evenly from above and below. It is easy to engage and tucks away when not in use..
Enjoy superb fabric feed on both sides

Quilt many layers without puckers

Excellent for slippery or fine materials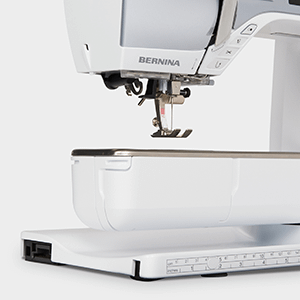 AUTOMATIC FEATURES SAVE TIME
Thanks to the automatic thread cutter, your thread is cut with an easy one-button operation. Keeps your work flowing easily and saves time.
Thread is cut automatically

Save time for your creative ideas

More time to focus on your quilt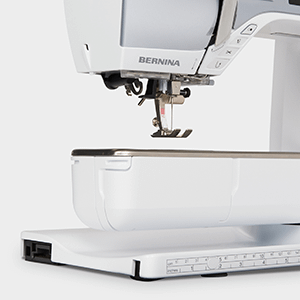 QUILTERS LOVE PATCHWORK FOOT #97
The Patchwork foot #97 is the special accessory for the most accurate feeding and stitching when piecing patchwork blocks.
Designed for straight-stitching

Ideal for sewing ¼" seam allowances

Extra insurance to experienced piecers
---
Features
Hook system: BERNINA Hook
Maximum sewing speed (stitches per minute): 1000
Sewing space to the right of the needle: 8.5" / 215 mm
Color touch screen: 4.3" / 10 cm
LED sewing lights: 12 LED

Multi-function knobs

Maximum stitch width: 9
Maximum stitch length: 6
Needle positions: 11

Sewing in each needle position

Number of spool holders: 2

Semi-automatic needle threader

Automatic presser foot lift

Automatic presser foot pressure

Automatic thread cutter

Pivot / hover function

Adjustable presser foot pressure

Manual thread cutter: 4

Adaptive Thread Tension

BERNINA Dual Feed (BDF)
Create and save stitch combinations

Memory (short-term/altered stitches)

Memory (long-term/altered stitches)

BSR enabled, straight stitch and zigzag

Start/stop button (stitching without foot control)

Slide speed control

Upper thread indicator

Lower thread indicator

USB interface for PC connection

USB interface for USB data stick

Changing stitch settings while sewing

Needle stop up/down

Drag & Drop

Bobbin winding while sewing/embroidering

On-screen help

Sewing tutorial

Embroidery tutorial

Creative consultant

Setup progra

weight 11 kg
size: 461 / 200 / 327.5 mm 18.1 / 7.9 / 12.9
---
Sewing & Quilting Features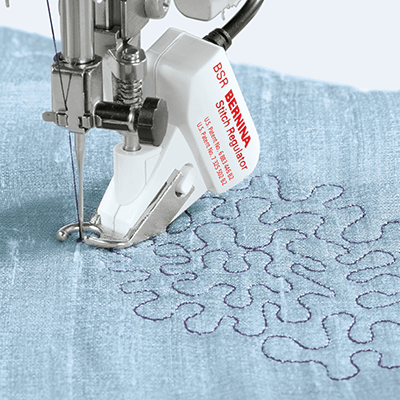 Pattern start/end function

Triple Stitch

Pattern end programmable

Elongation

Pattern mirroring

Free Hand System (FHS)

Number of stitch patterns (incl. alphabet) total: 1450
Utility stitches total: 34
Buttonholes (incl. eyelet) total: 16

Automatic buttonhole length measuring system

Automatic buttonhole

Manual multi-step buttonhole

Button sew-on program

Darning programs

Decorative stitches total: 450
Quilting stitches total: 73
Cross-stitch programs: 34
Sewing alphabets: 8
---
Embroidery Features
Embroidery functionality

Embroidery Module

Maximum embroidery area: 15.7" x 5.9" / 400x150 mm
Maximum embroidery speed (stitches per minute): 1000
Built-in embroidery designs: 250
Embroidery alphabets: 7
Embroidery design formats: EXP, DST, PES, PEC, JEF, SEW, PCS, XXX
Onscreen editing of designs: positioning, mirroring, rotating, scaling, combining

Import/Export of patterns via USB

Invisible Secure

Smart Secure

Thread-up Command

Programmable jump stitch cutting

Thread Away Mode

Midi hoop functionality (embroidery field: 265 × 165 mm, 10.5" × 6.5")

Mega hoop functionality

Freearm embroidery

Personal memory for embroidery designs

Lettering manipulation (WordArt)

Color resequence

Sequence control

Basting

Position recall

BERNINA ArtLink embroidery software

Embroidery tutorial

BERNINA DesignWorks Software & Tool compatible

Mirroring, rotating, scaling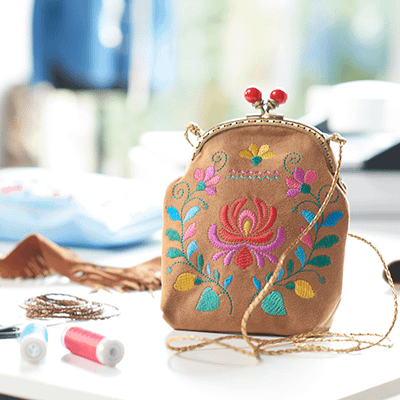 ---
Included Accessories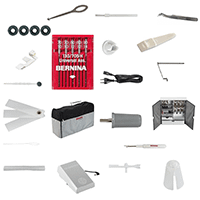 STANDARD ACCESSORIES
Bobbins, needles, threader, cone holder, seam ripper

Soft cover, accessory box, foot control

...and more!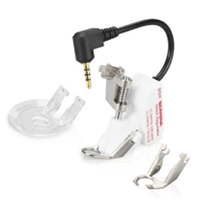 BERNINA STITCH REGULATOR (BSR)
Perfect for free-motion quilting with a controlled stitch length.

The sewing speed adapts automatically to the speed of the moving fabric

Automatic control of the stitch length ensures absolutely even stitch formation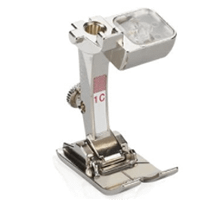 REVERSE-PATTERN FOOT #1C
For forward and reverse-feed stitches

For materials such as cord, denim and wool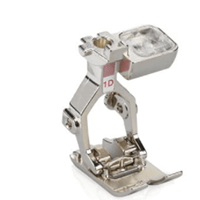 REVERSE-PATTERN FOOT #1D
For forward and reverse-feed stitches

For materials such as cord, denim and wool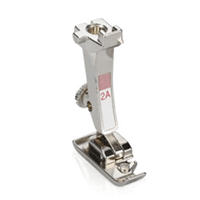 OVERLOCK FOOT #2A
Serging

For elastic and stretch materials

Neatening edges
BUTTONHOLE FOOT WITH SLIDE #3A
Sewing any number of buttonholes of exactly the same length

Flexible choice of buttonhole length up to 30 mm

With or without cording
ALSO INCLUDED:
Zipper foot #4d

Open embroidery foot #20c

Drop-shaped embroidery foot #26

Patchwork foot #97

Free-arm slide-on table

Knee-lifter/ free-hand system

Medium embroidery hoop

Large oval embroidery hoop
















KEY FEATURES

Hook system: BERNINA Hook

Maximum sewing speed: 1000 Stitches per minute

Sewing space to the right of the needle: 8.5"

4.3" Color touch screen

Drag & Drop

LED Sewing Lights: 12

Multi-function knobs

Needle positions: 11

Sewing in each needle position

Number of spool holders: 2

Semi-automatic needle threader

Automatic presser foot lift

Adjustable presser foot pressure

Automatic presser foot pressure

Manual thread cutter

Pivot / hover function

BERNINA Dual Feed (BDF)

Adaptive Thread Tension

Upper thread indicator

Lower thread indicator

BSR functionality, straight stitch and zigzag

BERNINA foot control with back-kick function

Programmable BERNINA foot control

Create and save stitch combinations

Memory (short-term/altered stitches)

Memory (long-term/altered stitches)

Start/stop button (stitching without foot control)

Slide speed control

Bobbin winding while sewing/embroidering

USB interface for PC connection

USB interface for USB data stick

Changing stitch settings while sewing

Needle stop up/down

On-screen help

Creative consultant

Sewing tutorial

Embroidery tutorial

Setup program

Machine weight: 24.2 lb

Machine Size: 18.1″ / 7.9″ / 12.9″

Pattern start/end function

Triple stitch

Pattern end programmable

Elongation

Stitch length maximum: 6mm

Maximum stitch width: 9mm

Pattern mirroring

Free hand system (FHS)

Number of stitch patterns (incl. alphabet): 1450

Utility stitches total: 34

Buttonholes (incl. eyelet): 16

Automatic buttonhole length measuring system

Automatic buttonhole

Manual multi-step buttonhole

Button sew-on program

Darning programs

Decorative stitches: 450

Quilting stitches 73

Cross-stitch programs: 34

Sewing Alphabets: 8

Reverse sewing
Embroidery Features

Optional Embroidery Compatible

Maximum embroidery area 15.7" x 5.9"

Maximum embroidery speed: 1000 stitches per minute

Built-in embroidery designs: 250

Embroidery alphabets: 7

Embroidery design formats: EXP, DST, PES, PEC, JEF, SEW, PCS, XXX

Onscreen editing of designs: positioning, mirroring, rotating, scaling, combining

Inport/export of patterns via USB

Invisible Secure

Smart Secure

Thread up Command

Programmable jump stitch cutting

Thread Away mode

Midi hoop functionality (embroidery field: 265×165 mm, 10.5"×6.5")

Mega hoop functionality (embroidery field: 400×150 mm, 15.7"×5.9")

Freearm embroidery

Personal memory for embroidery designs

WordArt

Color resequence

Sequencing control

Basting

Position recall

Bernina ArtLink embroidery software (downloadable from bernina.com)

Embroidery tutorial

Bernina DesignWorks Software & Tool compatible
Standard Accessories for BERNINA 570
4 Jumbo bobbins in the accessory, 1 bobbin in the bobbin case

2 Foam pads

Selection of needles

Soft Cover with pocket

Accessory bag

Foot control

Power cable

Height compensation tool

Seam ripper

Screwdriver red

Angular Torx wrench

Brush

3 Spool discs

Bernina Stitch Regulator (BSR)

Reverse Pattern Foot #1C

Reverse Pattern Foot #1D

Overlock foot #2A

Buttonhole foot with slide #3A

Zipper Foot #4D

Open Embroidery Foot #20C

Patchwork foot #97D

Slide-on Table

Touchscreen Pen

Free Hand System (FHS) / Knee Lift

Sewing Machine Oil

Bernina Accessory Box