We are sewing machine professionals, not just another internet retailer. Please call (925)937-7575 about current promotions, interest-free financing, and our low price promise on this model and all the machines we sell. We would love to talk over the phone and make sure you purchase the product that is right for you.
RETURN POLICY: please note that we do not do cash refunds for online purchases. If you are not satisfied with the machine you purchase, you can exchange it with another machine within 30 days, or receive store credit.
The HD-3000 is a heavy duty machine, perfect for a beginner or sewist looking to do a wide range of sewing. A handy instructional guide is located in the top tray door of the machine, which indicates the feet and stitch settings for a variety of sewing tasks. Heavy duty aluminum body and 18 stitches, including a one-step buttonhole give you the tools you need to handle any kind of sewing project. Stitch length and width adjustment are conveniently located on the front of the machine, and a hard cover comes standard for easy storage.
Key Features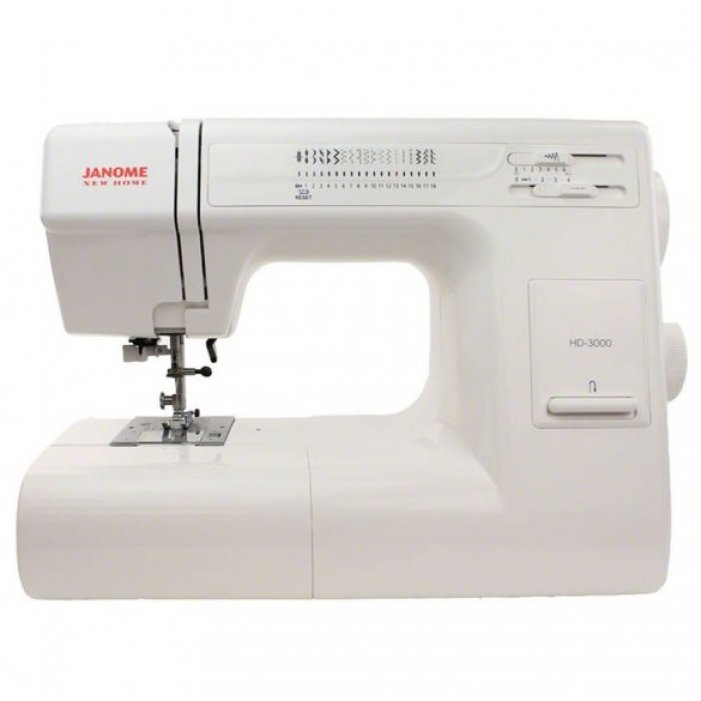 5-piece feed dog

6.5mm mHeavy-duty frame

Heavy-duty frame
Standard Accessories
Blind Hem Foot
Blind hemming can sometimes be a little bit tricky so the blind hem foot goes some way to helping improve this technique. The foot has a metal guide in the center and three grooves on the underside. During blind hemming, the fold of the fabric fits snugly agaisnt the fuide in the foot for accuracy wile the groove underneath help to prevent unnecessary slipping. The needle swings over the metal guide creating slack in the upper tension so that the pick of the stitch is almost invisible.
Sliding Buttonhole Foot
For easy 4-step buttonholes on front loading machines. (sliding buttonhole foot included as standard accessory on all sewing machines with a 1-step buttonhole.
Bobbin (Specialized)

Designed for Memory Craft embroidery and computerized models. Rubber added to the clear resin improves performance and reduces oise. Imprinted with the letter J
Zig-Zag Foot
The Zig-Zag Foot is used for most utility sewing, from straight stitch to zig-zag stitching. Also call the All-Purpose Foot.
Rolled Hem Foot