Skip Navigation
Website Accessibility
1661 Botelho Drive, Ste 180
Walnut Creek, CA 94596
Open Tuesday - Saturday 9-5
Questions? 925-937-7575
BABY LOCK Solaris Vision BLSA3
We are sewing machine professionals, not just another internet retailer. Please call (925)937-7575 about current promotions, interest-free financing, and our low price promise on this model and all the machines we sell. We would love to talk over the phone and make sure you purchase the product that is right for you.
SOLARIS VISION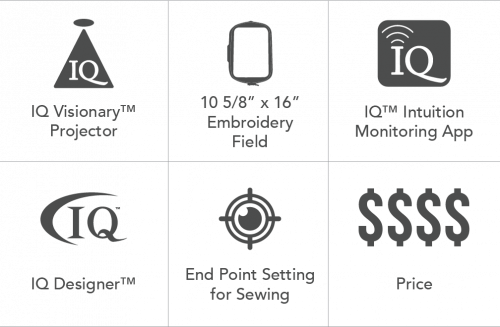 The future of creativity has arrived with the Solaris Vision sewing, embroidery, and quilting machine. The Solaris Vision's built-in IQ Visionary™ Projector vividly displays stitches and embroidery designs on your fabric for perfect placement. Choose from numerous built-in designs or use the IQ™ Designer and IQ Intuition™ App to create your own designs by drawing, scanning or wirelessly transmitting. Make your quilting visions a reality using the large 10-5/8" x 10-5/8" hoop perfect for quilt blocks and the beautiful built-in patterns for edge-to-edge quilting. The Solaris Vision is truly the future of sewing.
The Baby Lock Solaris Vision sewing, embroidery, and quilting machine features include:
IQ Visionary™ Projector
10-5/8" x 16" and 10-5/8" x 10-5/8" Hoop Sizes
IQ Intuition™ Monitoring App
IQ™ Designer
End Point Setting for Sewing
901 Built-In Designs
1514 Built-in Stitches
Scroll down to learn more and see additional features.